Wow! Dan, that's perfect.  The idea of the frame upon the mantle really sets it off.  I also appreciate how you placed the color from the images into the lettering.  Exquisite job, my good man. 
Now I can start doing a bit of promotional work to intrigue those classic film buffs.
Thanks so much for making it all "work" --- I'm really pleased.
—Scott O'Brien, author of
Herbert Marshall, a Biography
Of all the photos of Ms. Harding which the author supplied, the three I chose for the cover rather encompassed her long career. The filmstrip motif worked well, and I think the fonts looked good with the overall design. The author agreed.
Dan ... it REALLY is a standout ... a unique cover.  I like it!  It just dawned on me that the name Jeanine Basinger needs to be placed in a smaller font beneath my name: "Foreword by Jeanine Basginer." Basinger is a highly respected author of film history and chair at Wesleyan University.
Your work on the shamrock looks fine.  The framing for Brent's photo is a definite plus.
—Scott O'Brien, author of
George Brent
. . . I want to thank you both for helping to make my biography on Ruth Chatterton such a success.  It was listed among "The Best Film Books of 2013" by the Huffington Post.  It isn't only the narrative that makes readers take note of a Hollywood film biography—it's the "look."  For this, I give you the credit.
—Scott O'Brien, author of
Ruth Chatterton
This is my latest cover design for Mr. O'Brien. He typically sends me a rough design idea for his covers, and for this one he wanted to try putting Ms. Sidney's various character images into "teardrops." I always try to ensure that all of the elements of my design "integrate" or "fit together" or "belong." So, the light reflections on the teardrops are the same colors as the blue and purple text. And Darlene had the idea of tinting the rose.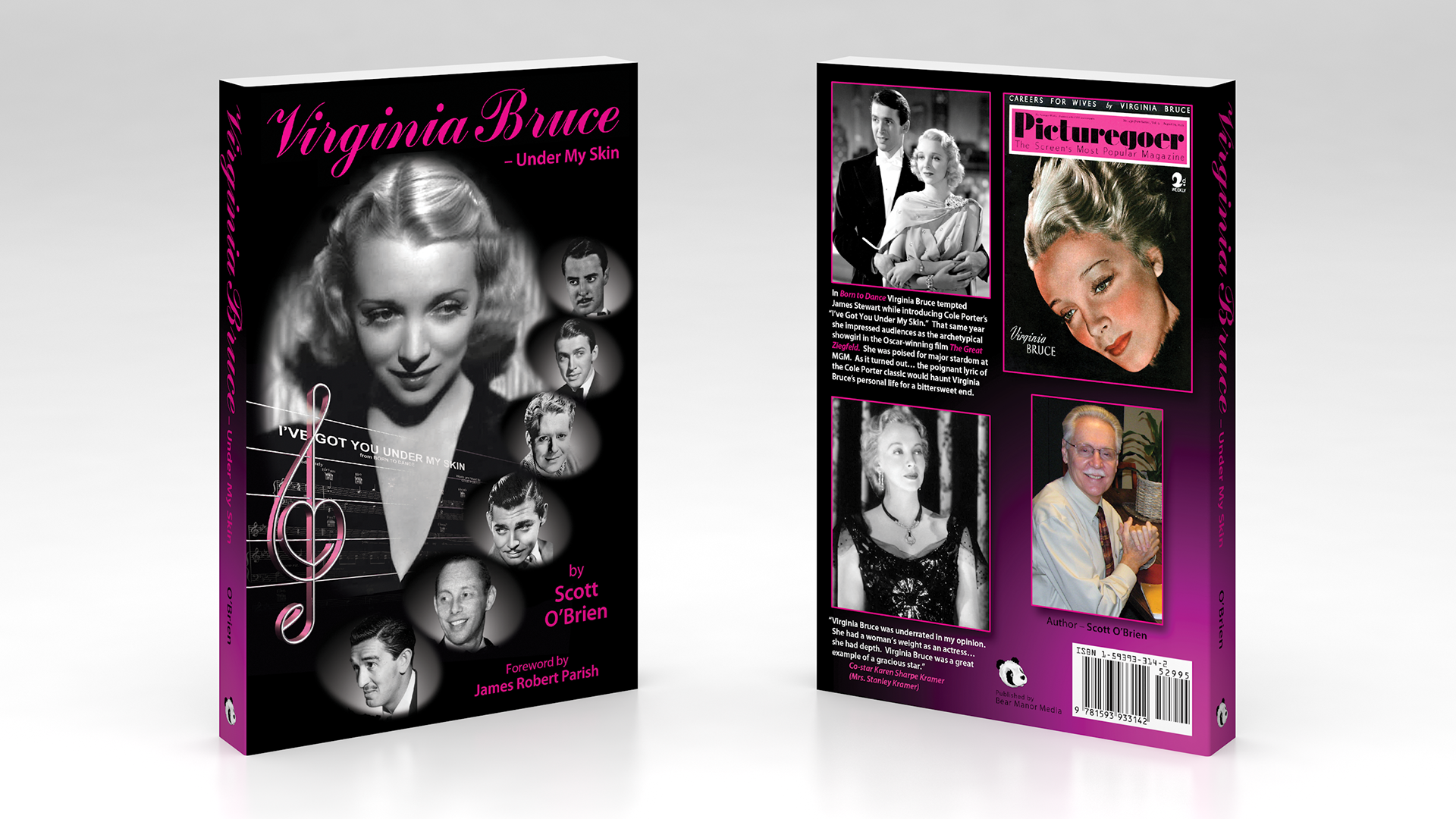 After working 3-5 years on a biography, an author anticipates seeing the hard copy—the end result of hard work. I have been very fortunate (five times, no less!) to have this "end result" placed, by my publisher, into the hands of Dan and Darlene Swanson (Van-garde Imagery). The book cover designs by Dan, are works of art in themselves—eye-catching, compelling. His covers underscore the subject of each biography with impact and imagination.
Classic Images
magazine rated the cover for
Virginia Bruce - Under My Skin
among the "Best of the Year," calling it "a terrific, dreamy cover. The imaginative image was designed by Daniel Swanson of Van-garde Imagery." Darlene's talent with the text and photo placement, is easy on the eye. Her work is a definite catalyst for stimulating such hoped for comments, as, "An excellent read. I couldn't put the book down." 
An added plus for Van-garde Imagery, is that both Dan and Darlene welcome input, the sharing of ideas, and working as a team with their clientele. Upon completion, everyone feels satisfied, and confident, in a job well done.
Wow! I am so very pleased with the cover. You are to be commended on an excellent job! You completely capture the "theme" I was trying to get across…and taken it to the max. The treble staff with the heart is precious. The shading and texturing are compelling. Thank you so very much for creating such a masterpiece.
—Scott O'Brien, author of
Virginia Bruce
(Upon sending the author copies of these images of his books)
"Dear Dan,
Wow!  The images are truly gems.  It's so nice to have that kind of visibility for my books on your website.  
When I update my own website, I'll make good use of them and refer the reader to Van-garde, if they have further inquiry.
All the best,
Scott" (15 July 2016)
Darlene has been creating book interiors and covers for me for years now, and I keep coming back. Her work is consistently great, speedy and respectful. If that last thing sounds weird, you try working without it! And Dan is tops in cover design. I would come to him without hesitation, as I have done for years and years.
—Ben Ohmart, Publisher, BearManor Media