When my publishing house abruptly closed its doors in the spring of 2020, I was at a crossroads. I realized that if I wanted my work to survive, I would have no choice but to republish.
After reaching out to various companies, I received a call from Darlene and Dan Swanson of Van-Garde Imagery, Inc.
They understood my dilemma and offered to not only help re-create my work—but to take it to a higher level. Over the ensuing weeks, we worked together to produce a second edition of my book that far surpassed the first. To say I was impressed is an understatement, and if you are seeking a professional, experienced, and talented company to help bring your work to life, I cannot recommend Van-Garde Imagery, Inc. highly enough.
—Eyad H. Yehyawi, author of
Crimson Arrows: A Bowhunting Odyssey
I recently decided to re-issue my book with improvements. I found Ingram-Spark listed in the top 10 best companies for independent publishers. I needed technical help with turning my manuscript into a book file. I'm pretty good with computers but I know my limits. Darlene Swanson was listed as certified help so I hired her. She made everything easy. She got things done in a timely manner. She always answered my emails and paid real close attention to little things I asked of her. Darlene was fantastic. If you need techni
cal assistance with putting your book together don't hesitate to hire Darlene Swanson. She's the best.
Thanks for ALL of your help.
—Dan McTeigue, author of
The Third Floor Movie Mystery
"Working with Darlene Swanson was a great experience.  She is precise, imaginative, attentive to detail, and infinitely patient.  Her book design conveyed exactly the elegant touch I was hoping for."
—James Stratton, author,
Angie
book
Darlene Swanson of Van-Garde Imagery is caring and reliable. Undoubtedly, she has plenty of experience in designing a wide range of commercial publications. I find her design skills uniquely subtle. 
I asked Darlene to design a book for me from rough sketches. She was very efficient not only in producing a cover design but also a sophisticated interior file with complete formatting. Her subtle sense of digital colours definitely enhanced the appearance of my book. 
After the production of advance review copies, Darlene tirelessly helped me to make corrections to prepare my book for publication. She is a good listener with creativity. She is efficient and understands the keen competition on the market. 
I am very satisfied with Darlene's professionalism. Therefore, I have no hesitation in recommending the commercial imaging services of Van-Garde Imagery. 
—Thomas Morton, Publisher,
A Mother's Love
The cover design is spectacular. I didn't realize when I sent you that picture of the symbolism of light shining on a Bible - exactly what the book is about.
I also like your interior design with extra space between paragraphs to take the heaviness out of the detailed commentary. Put another way, to open it up nicely. 
Great work!!
If you are going to self-publish and have little clue on how, go to Darlene! There is no way I could of self-published my first book without her knowledge, formatting skills and especially her availability!
I decided to go with Ingram Sparks and found her there. When my book was near completion, I called her and she picked up the phone! That was exactly what I needed and she carried it through for me to the end. I had allot of images that was challenging for her, but she pulled it off. 
I felt she cared about my book and wanted it to be perfect like me!
And a real bonus was the cover design. She knew before I did, what I needed on the cover and quickly she designed a cover.
Don't hesitate to use Darlene, She knows what Ingram Sparks needs and gets it done!
If I decide to write another book, I would definitely use Darlene. 
—Karen Eddings, RH, MHN, author,
Live and Age Well
I am truly happy with the front and back cover designs you created for my math book, 
Fraction Fundamentals
.
I, myself, am a textile designer and fine artist and for the past 50 years have always done my own artwork.
But not this time. This time I wanted to create an effect that I knew I could not create.
During our collaboration, you proved many times over that you have not merely an immense abundance of technical knowledge and skill, but great communication skills that enabled me to collaborate with you with 100% ease and success.
​​​​​​​
—Bruce Silton, author,
Fraction Fundamentals
My name is Bryan Mark Rigg, and I have written five books on World War II and the Holocaust. I have worked with the publishers of Yale University Press, University of Kansas Press and Stackpole (imprint of Rowan and Littlefield). As a result, I have had a lot of experience working with excellent publishing houses to get out my works on history.
However, nothing compares with my experience of working with Darlene Swanson. Unlike other book designers, Darlene worked with me on how to place my artwork, how to organize my chapters, and how to layout my text. She got to know me as a person and learned what was important to me for the presentation of the book. This is clearly evidenced by the incredible art design she did for the cover—both front and back—for my current book, 
Flamethrower
. She has a keen eye and an innate sense of what will work and what will not when presenting historical themes to the public. So, from designing the cover of the book, to placing maps and historical photos within the text, Darlene showed that she has a passion for her work and a desire to make me look good. 
Although my previous books had professional people doing good work on my titles, Darlene demonstrated that she was a cut above the rest. This is apparent when one compares the second-rate book cover and design that Stackpole did for
Flamethrower,
 versus what she has done for my current
Flamethrower
 book, now appearing under my own imprint, Fidelis Historia.
I highly recommend Darlene Swanson for anyone who wants their work to be more pleasing to the eye, more in tune with the author's wishes for presenting the material, and more professional-looking than most other presses. When one considers what Yale, Kansas, and Stackpole did for me, and what Darlene has accomplished with my book, there is no comparison.  She is also fun and very personable, making her an absolute pleasure to work with.
—Bryan Mark Rigg, author,
Flamethrower
I want to let you know how much I appreciate what you have done for me and my books. You have taste and talent and I hope that they take you wherever you want to go with great success. I shall remain a fan.
Hey, Dan. I absolutely LOVE IT!!!!   Great job, buddy. It looks amazing!!!  I think you captured the "Feel" I was hoping to get with this cover. Soft, cute and fuzzy… You are "The Man." It's perfect!
—Johnny Strader,
Cotton: The Little Plant That Snored
OK, so you've written a book. You've drawn illustrations. You've even committed to provide the book cover material. Well that's a first...
One small point - how is all this material to be composed?!
Your publisher puts this work into the hands of a COMPOSITOR by the name of Darlene Swanson. What a blessing that turned out to be for I was pretty well computer illiterate in such matters...
Not only has Darlene an extraordinary talent in making quite simple decisions, she never intrudes, never insists, just asks you what do you want - tell me and I will do it - and seemingly keeping herself out of picture makes the book BEAUTIFUL!!
May I add that she has what I described in this journey of completing the book as a Divine Patience. 
If anything was not working she would ask you to clarify - and repeat, Tell me what you want and I will do it...
So I was emboldened to add to the text items and crazy ideas and always they were digested and included... PERFECTLY!!
Thank you, Darlene! You're a star!!
—John Antrobus,
The Milligan Papers
Darlene was a pleasure to work with! She helped guide our project with continuous creative ideas and design. She is extremely skilled in design and has the experience and expertise to produce a high quality professional product.
—Jean Varn, Owner, Fly Bird Productions
Writing books and getting them ready to change the world takes a team of great people. Darlene is one of those people writers need on their team. She makes your book pop with professionalism in the layout and cover design.
—Annette Reeder, 

Biblical Nutritionist and Mind/Gut Solutions Specialist
Hip Hip Hip Hurray!!!  I lac
k words to express my gratitude for the excellent work you did for me. Thank you for the follow up advice you gave. I will need to go into my Ingram account to change the size and the numbers of pages of the files.
GOD  BLESS!!!,
If you are looking for someone to create an eye catching cover and page-turning format for your new book, Darlene is the person to hire. I have published three other professional books and was never fully satisfied with the cover and inside layout.
Working with Darlene was different. I only had to explain the concept and philosophy of the story and the book once. What she created was exactly what I had envisioned…and the creation process was fun.
—Davi
d G. Co
oper, author
The Mariner
I've had eight other books published with large publishing houses, but never felt their graphic designers were as passionate and as attentive to detail as Daniel Swanson and his wife Darlene. It felt like a real collaborative project working on this book cover with him. Daniel has a wealth of knowledge and creative ideas, but was equally willing to  take onboard my suggestions to see if they'd work or not. There was a smooth and flowing back and forth e-mail correspondence between us to get this eye-catching jacket just right. Like a piece of clay, we worked it together to get it perfected. I look forward to working with him again in the near future.
I showed the cover to the head of Volvo Marketing, and he really liked it, as did another mate who is a designer, too. Great job, Dan.
Here's what my agent had to say:
"Well done, Jason.  It is truly very strong and will stand out in the bookshelves.  The back quotes 'pop' which is perfect."
And Darlene did a fantastic job on the interior.
Thanks again. It's been a real pleasure working with such professionals as your good selves!
—Jason O'Toole, author of
Hollywood Irish
I contacted Darlene for a quote on book design for a client who was publishing his first book. Her responsiveness and obvious expertise made her an easy choice over the other commercial design firms I had contacted. My client and I were not disappointed. Darlene continued to be responsive, she worked quickly, and with real talent. She was truly a pleasure to work with and we are thrilled with the end result. I would recommend Darlene and Van-Garde Imagery to any author.
—Ruth Danielson, publicist for William L. Beigel,
author of
Buried on the Battlefield – Not My Boy:
The Return of the Dead from World War Two
Darlene is my go-to person for all graphic design needs for my clients' projects. I've used her services for my clients for 20 years. Her design work is fabulous. She comes up with creative ideas for the design work that is phenomenal and like nothing I could have ever imagined. She is fast, efficient, effective, and affordable. Her turnaround time is always spot on. She is easy to work with, and she will incorporate my clients' ideas when they have ideas as to something they want to have featured. She has done countless marketing materials for my clients. She also does superior design for books. The interior design for my book, The Power of Miracle Thinking, was absolutely superb. Darlene receives my highest recommendation.
—Randy Peyser, Book Editor, I Secure Literary Agents, Author One Stop
Darlene Swanson is a creative, openminded, talented designer with whom it is a pleasure to work. She listens to your idea
s and critiques an
d acts accordingly immediately.  She give her opinions which are totally respected and followed. I would recommend her to anyone needing a book designer. She is lovely to work with.
—Jan Gordon, 
Women of Steel
, 
LGBTQ of Steel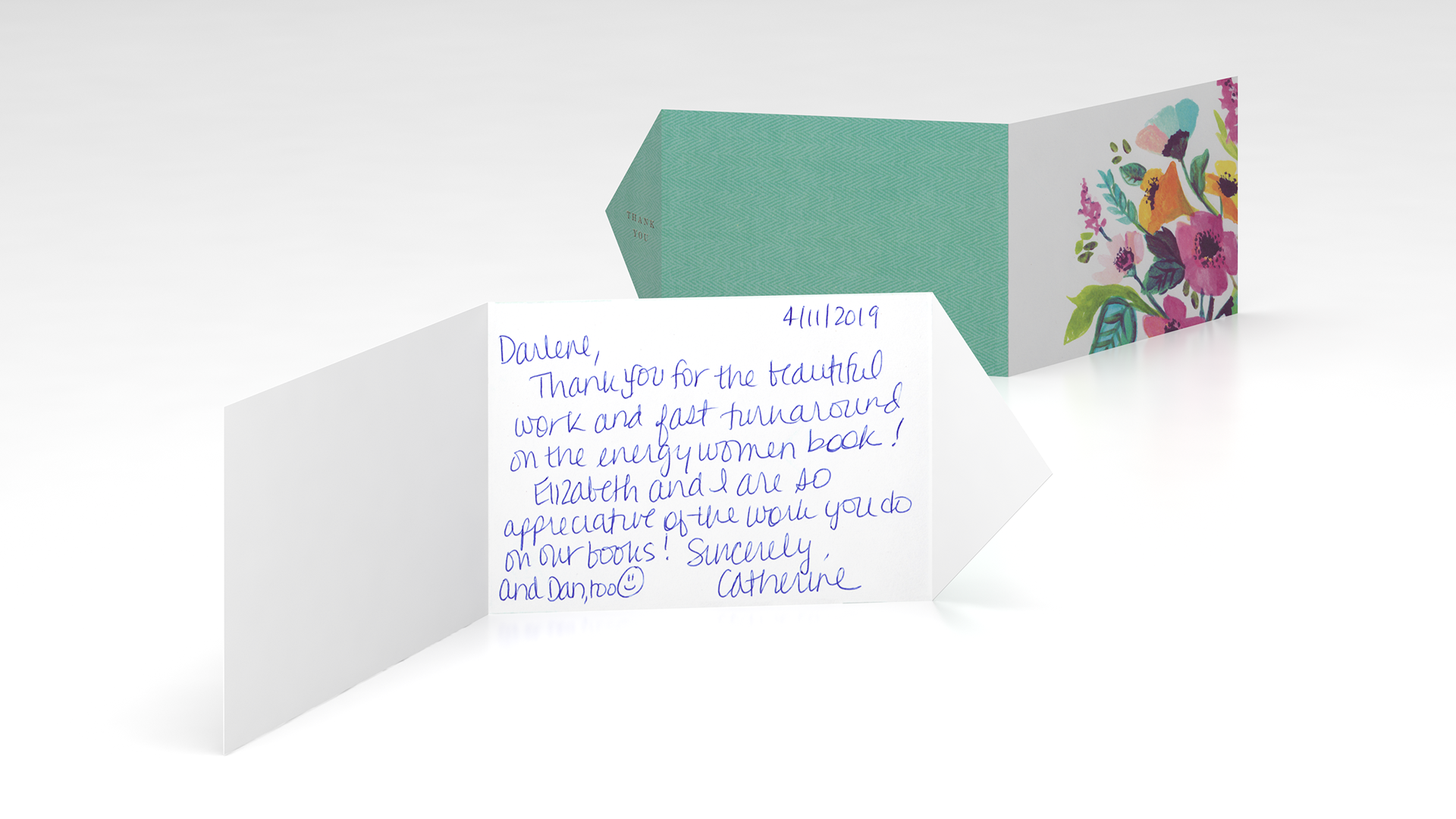 After a brief exchange of email and a short conversation over the telephone, I sensed that Van-garde Imagery intuitively understood exactly what I wanted to achieve in creating my first book. The entire process was managed swiftly, effectively—and very successfully. I am delighted by the end result, my family are thrilled; I would therefore recommend Darlene without reservation—to any one considering the services and support of Van-garde Imagery, Inc. Thank you so much!
Darlene was very professional when creating the manuscript for my book
Rise To The Top
in the entire way she responded quickly and was upfront about her work and process. I could count on her to fix any issues, and she did a great job on the layout for Ingram Spark, as well. I highly recommend her for interior design layout!
—Julie Compton, Executive Coach and Author
As a first-time author, I waded through a sea of "experts" and found Van-garde Imagery, Inc., and Darlene Swanson. Boy was I lucky! She was so patient, answered all my questions, and I had a lot of them.
Darlene took my ideas and recommendations and brought them to fruition.
Thanks to her for her professionalism, patience, and understanding when the project got off course due to a family illness. I look forward to using her for my next book. Highly Recommended!
—Susan Macey, PhD, author of 
Keeping Weight Off Forever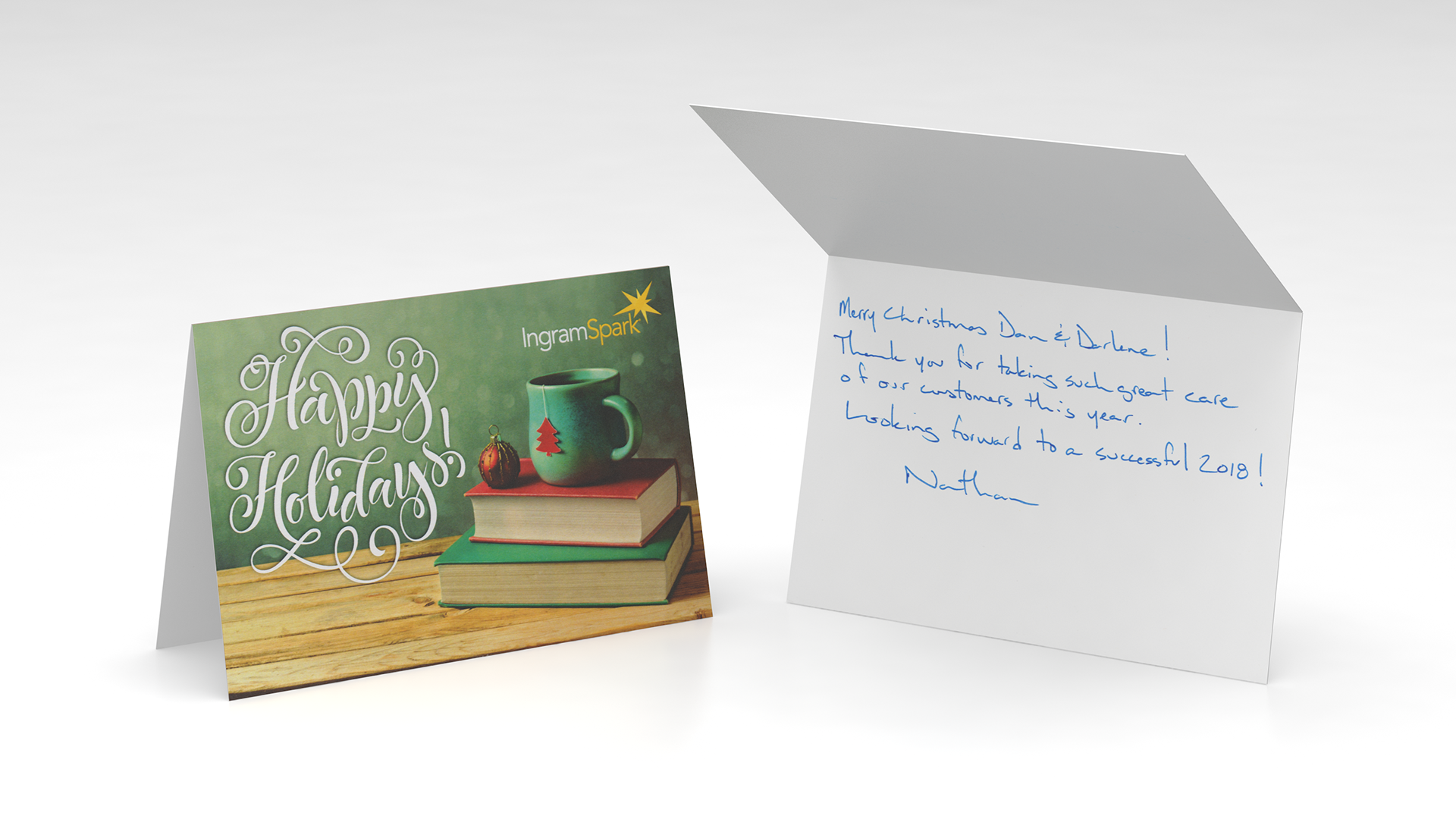 We received this Christmas card in 2017 from our Ingram Spark contact, Nathan. We are Ingram Spark Experts featured on their
site
. They have been referring work to us regularly for years, now.
I really enjoyed working with Darlene of Van-garde Imagery. She formatted my latest book and cover. Her service, work ethic, quality, and responsiveness were excellent! Her professionalism made it so easy to work with her—so glad I found Darlene and Van-garde!!!
—Dr. Santo D Marabella, The Practical Prof®
The Swansons did my book ad and they really nailed it—even though a book about horses and pedigrees is not mainstream. The ad is absolutely breath-taking, eye-catching and simply professional down to the very detail. They also helped me with the book interior and cover and I was able to self-publish a book that has the professional look that represents the quality within. Thank you (und besten Dank) to Team Swanson!
Wow, Darlene! Looks amazing! Great job!!!
As the published author of twenty books ranging from fiction to non-fiction, I have worked with a number of publishers and designers over the years. From the outset I was most impressed with Darlene. Her graphic and layout skills, attention to detail and overall professionalism and patience have made working with her a most rewarding and pleasant experience. To say that I am pleased with with the final result would be an understatement.
I got your proof and was going over it and it looks incredible! I actually cried going over it and seeing how far its come from. You did a fantastic job and 259 pages!!
Darlene what can I say, the covers look beautiful! Really a WOW! Thank You for your expertise and patience. Its a dream come true for a man I've loved since I was 12, met him at 19. Will never forget what a kind soul he was. You may be hearing from us again! Thank You!
Darlene came to the rescue when my designer was not able to complete my project due to health issues. She quickly corrected the print file and produced a beautiful ebook at short notice. I am very impressed by her professionalism and her ability to pick up an ongoing project and make it her own. I hope we can work together again in the future and create something beautiful from the start.
—Xenia Tran, author of
Sharing Our Horizon
Amazing, gorgeous, wonderful.. The superlatives are short to describe Ms. Swanson's magical work. She did an outstanding work on my first book, and adapted to the many changes I asked of her. I look forward for our next collaboration and I highly recommend her.
You are truly a JOY to work with. Your attitude is like a breath of fresh air in the art field.
Darlene: I will forever sing her praises! Top notch professional, attentive to personalization, committed to excellence, delivers outstanding beautiful art with a voice.
I had the privilege of working with Darlene Swanson on my first book. I don't know what I would have done without her! She is incredibly professional, and at the same time, willing to answer the simplest question; and I had many. Darlene's guidance was amazing. She will be the first person I turn to if I should write another book. It doesn't get any better than this!
Darlene came to the rescue when my designer was not able to complete my project due to health issues. She quickly corrected the print file and produced a beautiful ebook at short notice. I am very impressed by her professionalism and her ability to pick up an ongoing project and make it her own. I hope we can work together again in the future and create something beautiful from the start.
Author of
Sharing Our Horizon
.
Darlene Swanson is in a league above the rest on every level! If you want the best look no further…
I have written and developed screenplays but this was my first foray into the book publishing world with my memoir, and Darlene was such a joy to work with: fast, professional, and proficient; also giving me some guidance along the way. I thoroughly recommend using her for your book interior design!
—Wendy Wilkins, Actress/Writer
Omg it came!!!!! I love love love it!!! Thank you so much for all your incredible work and help!!!
Cheers
I want to offer my sincere recommendation to leverage Darlene Swanson for your book projects. I am a first time picture book author. I completed the contents of the book but new I was missing something, something between completion and pushing the "submit to publish" button. I reached out to Darlene for very valuable advice. Darlene provided the much-needed insights to the final design layout, font type (based on audience), and printability. The book went from OK to Super! through Darlene's very affordable adjustments. I will definitely utilize Darlene again if Book Two materializes!
Author,
Henry Brandon, King of the Bogeymen
I want to offer my sincere recommendation to leverage Darlene for your book projects.  I am a first time picture book author.  I completed the contents of the book but new I was missing something , something between completion and pushing the submit to publishing button.  I reached out to Darlene for very valuable advice.  Darlene provided the much needed insights to the final design layout, font type (based on audience), and print ability.  The book went from ok to super through Darlene's very affordable adjustments.  I will definitely utilize Darlene again if book two materializes.
YOU ARE AMAZING!!! Thanks for the great work!
Darlene Swanson of Van-garde Imagery did an A+ job on the design of my book. Her design was professional and perfect.
She was available at any time for phone calls, editing and re-editing. She was timely in all regards. She was lovely and easy to work with.
I'll for sure use her over and over again for future books. I recommend her and her company highly and with no doubts at all.
—Jan Gordon,
Women of Steel
OMG! Love this! I LOVE IT ! So grateful to you for creating what was in my head! Amazing! 
After months of failing to master Adobe Photoshop, page layout, and book design software, I was lucky enough to find Darlene Swanson and Van-garde Imagery. Darlene quickly recognized my hopes  for 
Living Mountain
 and quickly lent her fine eye and long experience to composing the book. She discovered a way to connect photos and poems on facing pages, then worked for consistency across the whole book. I came to see her as a partner in discovering a powerful way to present ideas on the page.
"Thank you for all that you did to make this book look
amazing!
"You are so great to work with, and I look forward to our next book together!"
The husband/wife team of Daniel and Darlene Swanson proved to be a dynamic duo in getting the finished book [
Old Time Radio's Comedy Couples
] ready for the printer.  Darlene supplied me with a neatly formatted first proof and then worked diligently and patiently with me to correct a bountiful batch of punctuation and spelling errors and make numerous minor changes.  Daniel took a wisp of an idea I suggested and produced a front cover that is a work of art.  Then he metamorphosed my feeble attempt at a back cover to give it a polished professional look.
Darlene Swanson designed the cover for my third book. She did an outstanding job. 
It is so wonderful to have the photograph I wanted on the cover of Virginia O'Brien: MGM's Deadpan Diva (BearManor Publishing 2017). 
The fonts and colors Darlene selected are a perfect match for the photograph. Her professionalism is reflected in her work. She made no final decisions without my approval. I am grateful for everything she did to make the book shine.
"Super creative!  Fast!  Accessible!  And determined to design exactly what you want!  
Dan Swanson is also friendly, polite, and eager to either capture the vision you conceived for your book covers, or help you design one if you're not sure what you want.  
He has designed covers for my novels and non-fiction books, as well as for books that we write for our ghostwriting clients.  I am thrilled with his creations, and our clients are thrilled.  If people judge a book by its cover, then they are very impressed by books whose covers are created by Dan Swanson."
—Elizabeth Ann Atkins, CEO, Two Sister Writing & Publishing,
Atkins & Greenspan Writing
You are amazing! I love it! It "swings!" Thank you!
I really have to thank Daniel & Darlene Swanson from 
Van-garde Imagery, Inc.
 for their amazing work on the cover and layout of the book. They are true pros and who not only did their work well but guided this newbie through the process.
—Peter Anthony Holder, author of
Great Conversations
Dan and Darlene Swanson did such excellent work with my
Solving 9/11
books they were the natural choice for my book about the
War on Terror.
They did another great job.  We want the final product to be perfect and that requires a lot of back-and-forth emails with Dan and Darlene as the corrections are made. They are very good with this process and it shows in the excellent results we have achieved.
—Christopher Bollyn, author of
The War on Terror
They say you can't judge a book by its cover, but having a great cover and an easy-on-the-eye overall layout certainly helps a lot! As a first time author, I've had the immense pleasure to deal with Daniel & Darlene Swanson of Van-garde Imagery. 
In the back-and-forth creative process of putting together my book, 
Great Conversations: My Interviews with Two Men on the Moon And a Galaxy of Stars
, I found myself saying "Wow!" a lot. You'd think as a writer and a decades-long broadcaster that I would be able to use my big boy words more, but Daniel & Darlene's work just left me speechless!
Their work has been spectacular! I can't imagine the book turning out better than it has, because they have surpassed my expectations as to how the finished product would look. But beyond their expertise was their guidance in helping me to decide the best path to success for my project.  
They were prompt with their delivery, generous with their advice, and thorough with their detail to quality.  While that might sound effusive, remember, this is me speechless.
Thank you for taking my baby and breathing colour and life into it!
I have used Darlene Swanson for all of my books—eight and counting. If you want a professional look with an easy-to-work-with designer, Darlene is the perfect match.
Darlene makes my books look ready to be a best seller.
—Annette Reeder, The Biblical Nutritionist
Thank you so much for your guidance and the assistance you provided to me in helping me to produce my book. Even though I had written and published a couple books previously I was not aware of the professionalism I was missing until I had the opportunity to work with you.
I am very glad that you were referred to me and I would be more than happy to refer you to someone who is looking to publish a book and is wanting someone with the extensive experience and talent that you have provided to me.
All the best, and I am looking forward to working with you on my next project.
As a new author and indie publisher, I needed someone with both experience and patience, along with a good eye for enhancing our material on the printed page. Darlene Swanson, recommended by the Independent Book Publishers Association, was just what the doctor ordered! She maneuvered the text around graphics to highlight the message(s). She worked well with color; and her choices for fonts and headings were fantastic. Everyone on our team was impressed, and more than pleased!
—Dr. Paul Peebles, author, publisher at Pediatric Care Publications, renowned pediatrician and pediatric hematologist
I went back to the drawing board.  I wanted simple. Sophisticated.  Intriguing. 
I searched a stock photo database that Catherine and I subscribe to, and I found the photo of the woman in the white hat. The main character of Dark Secret is a white-looking woman who's hiding the fact that her mother is black. She uses her body and her sexuality – as conveyed by the seductive red lips and the bare shoulders – to seduce her way into a wealthy white family, and try to stay there. The title, Dark Secret, above her, indicates that clearly she's concealing something.
Voilà.
    • 2017:  third edition paperback features a hat-wearing, red-lipstick-sporting seductress.  Sexy!
Once I made the decision, I sent the photo to the graphic designer, Dan Swanson of 
Van-garde Imagery, Inc
. He quickly sent back drafts that we tweaked, and we had the cover done within 24 hours! The back cover text was already written, I had already selected the photo by photographer extraordinaire 
Clarence Tabb Jr.
, whom I've known for decades, and I already had the awesome quote from New York Times best-selling author 
Eileen Goudge
. All the designer needed was the bar code and our logo for Two Sisters Writing & Publishing.
Bam!
Thanks for the beautiful book cover design for my
Surrogate Suburbs
 on UNC Press; I saw your mention after Googling myself. It really is an innovative cover, not anything like other academic monographs on the market. I spent a lot of time with colleagues and friends discussing how evocative it is of the themes I treat in the book -- suffice it to say you really captured the mood perfectly, and I really appreciate that. Keep up the good work!
My first venture into self-publishing was marked by a lot of confusion and mistakes on my part, but Darlene was very patient.  She went above and beyond to help me through the process, and her prices were very fair.  We emerged with a beautiful book, and I am grateful.
My first inquiry by email to Darlene Swanson at Van-Garde Imagery was made on October 27, 2015. My book
Newcomers' Accomplishments II: Hidden Children and Holocaust Survivors
was printed by Ingram/Lightning Source in less than a year, on October 14, 2016. This is a miracle!
My new "career" as non-fiction/biography writer was started after retirement from over 40 years in medical research. I needed advice about how to get books published. My former colleagues recommended a "print on demand" (POD) publisher. My first book got published that way. It turned out to be a grievous experience: entire book sections found to be missing in proofs, text and images not centered on pages, and ongoing harassment to pay more, etc. Then I got a brochure from the British "Alliance of Independent Authors" (ALLi). It suggested that the best option was to get books produced by Ingram/Lightning Source. However, that required skills and experience I did not have, and was not willing to acquire since that would require extensive prior training. After extensive searches, I found a wonderful book designer. With his kind professional help I was able to get a second book published. However, two problems turned up after the book got published: The helpful book designer refused payment from me since he considered it a honor to do the wonderful design for me. This was embarrassing to me. Then he found a new appointment (after having been retired), and was prevented from continuing the collaboration with me. Therefore, I got very worried about finding another book designer for a book I was considering to write.
I joined the Independent Book Publishers Association (IBPA), and asked for help from Mimi Le at IBPA. She kindly recommended two designers. I obtained information about them, and immediately realized that Darlene Swanson would be the excellent fit. My judgement has been perfect.
Darlene kindly accepted to collaborate with me. Darlene's and Dan Swanson's cordiality, generosity, and professionalism converted the dream of the book into reality under circumstances which were not easy.
Soon after our collaboration had started, I was diagnosed to have acute lymphoblastic leukemia, and had to spend many weeks in a hospital receiving chemotherapy. This was followed by 8 cycles of chemotherapy, allowing me to spend 2-3 weeks at home followed by 4-5 days in the hospital. While partially recovering at home, I was able to continue working on the book. This was possible only due to Darlene's consistent help and willingness to accept and work on fragments of the book which I was able to provide. Frankly, being able to give attention to the book, rather than suffer in misery, helped my mood and gradual recovery tremendously. Perhaps the work on the book was a more efficient therapy than the infused drugs. Darlene also kindly edited the last proof the of the book, and graciously uploaded the completed book to Ingram/Lightning Source. The book was quickly accepted for printing, and is now being distributed.
Dan received from me material for the book cover. My ideas about the design had artistic deficiencies. Dan came up with a much more attractive and eye catching design. We had interesting discussions about that, and with a little input from me Dan created a great book cover consistent with the intended impact of the book.
The collaboration with Darlene and Dan has been an uplifting and rewarding experience.
—A. Robert Neurath, October 22, 2016
I highly recommend… 
Yes I do highly recommend Darlene Swanson and the art work of her husband, Dan, to produce the highest quality work, to put your manuscript in book form ready for the publisher. They were professional in every regard, and were totally honest in their dealings with me. I will use them again no doubt.
—Terry Lee Miller, Sr., author of
The Death of Endless Damnation
I am A. Turk, a retired Nashville attorney, now author of the courtroom drama Benjamin Davis book series. I have had the good fortune of having worked with Dan Swanson on all three of my book covers and Darlene Swanson has designed and formatted the second and third books in the series.
Dan's covers have always been a collaborative effort between us to achieve my vision of the series. He took the time and interest, especially with the first cover, to explain the process, so as a first time author I could select a cover that established the precedent and nature of my book series. We have employed photography, computer graphics and some of Dan's other professional tricks and methods to achieve my goals. He has been a pleasure to work with and after three covers I consider him a good friend.
Darlene's work is prompt and professional. Both projects were completed in less than two weeks, with minimum
back and forth. That is the definition of a great designer/production artist.
—A. Turk, Author of the Benjamin Davis book series
Being a first time author taking a shot at self-publishing, I was clueless on how to transform a manuscript into a book. My first pitfall was having a front cover design that was not in the proper resolution for a book cover. While I loved the design, I was not even sure if I could use it. 
Panicking over the mishap, I immediately called the print and distribution company to ask for a list of graphic artists with experience on book design. This is how I stumbled upon Darlene Swanson.
As if by magic, Darlene quickly ramped up the cover to its proper resolution, clarified the original design, and reworked the photos so they became a part of the picture. It was gorgeous. 
Instantly I knew that I needed her experience and expertise to design the interior of the book. A short time after sending her the black and white word manuscript, she transformed the book into a work of art. "Mama Melisi and Me" is an Italian cookbook and short story book. Darlene infused the enticing food photos throughout the book, and used red and black print on each of the pages. She brought the book to life.
Throughout the process, I called Darlene to request endless edits. We laughed, both feeling like I was having a baby, but never knowing when the due date was. I was constantly e-mailing changes, as well as arranging for Sunday afternoon phone calls, so I could walk her through the edits. Darlene was always quick and efficient, as well as totally professional and patient. It was a dream working with her. We worked together for months until I was totally satisfied with the finished product.
Having never published anything before, and being terrified of my inexperience, it was great having Darlene to glide me through the creation of the book. If I ever dare decide to tackle a series of "Mama Melisi and Me" books, I will gladly invite her to join me in the adventure. - Debbie Melisi, Publisher
You all were worth every penny and much more. I had to kiss 2 ugly frogs before I met you two. There are a lot of companies out there that claim to be book designers, but in reality they are nothing more than impostors with publishing software who charge high fees for low quality services. I greatly appreciate your willingness to treat my book as a valuable commodity rather than a mass produced cheap product. The fact that you all were determined to satisfy me was demonstrated in so many ways. It showed through your patience, communications, and endurance. Your overall professional services and affordable fees have made it possible for me to finally produce a sound, error free, professional book that I am very confident and looking forward to presenting to the world.
—Getty Israel, MPH, Public Health Practitioner, Pathway To Wellness, LLC
If you are looking for someone to convert your book to a user friendly format for IngramSpark printing, look no further! After floundering around with no success, I was referred to Darlene. She was just wonderful to work with. She quickly made the conversion, resulting in a perfect product.
—Sharon Atwell, Publisher
Some people are blessed with insight. Others with intuition. But when you couple those two abilities with a talent for marketing strategy and a major gift for graphic design—you get Darlene Swanson's breathtaking approach to building a dynamite product. Darlene has created five promo-sheets for my books and I can say with absolute certainty that these are attention getters. I mean: literary agents want to represent me, producers want to promote my work to television and film companies, and many simply can't wait to read the books. To put it simply, Darlene's work represents my intent and goals better than I could do by myself. Every single one is fantastic and it is like waiting for a birthday gift to see what she will invent each time I ask her to make one for me. I'm excited and anxious – can't wait to see them. And they are just right. Every time.
—Retired Major General Mari K. Eder
I sure appreciate all of your help. You make it easy for a very busy guy like me to put the work in the hands of someone I can trust and trust to work very well with authors.
—Ben Ohmart, Publisher, BearManor Media
After working 3-5 years on a biography, an author anticipates seeing the hard copy—the end result of hard work. I have been very fortunate (five times, no less!) to have this "end result" placed, by my publisher, into the hands of Dan and Darlene Swanson (Van-garde Imagery). The book cover designs by Dan, are works of art in themselves—eye-catching, compelling. His covers underscore the subject of each biography with impact and imagination.
Classic Images
magazine rated the cover for
Virginia Bruce - Under My Skin
among the "Best of the Year," calling it "a terrific, dreamy cover. The imaginative image was designed by Daniel Swanson of Van-garde Imagery." Darlene's talent with the text and photo placement, is easy on the eye. Her work is a definite catalyst for stimulating such hoped for comments, as, "An excellent read. I couldn't put the book down." 
An added plus for Van-garde Imagery, is that both Dan and Darlene welcome input, the sharing of ideas, and working as a team with their clientele. Upon completion, everyone feels satisfied, and confident, in a job well done.
A giant THANK YOU to Van-Garde Imagery for helping me to create success for so many of my Author One Stop clients! Thanks in part to Van-Garde Imagery's magnificent design work, I was able to secure literary agents and publishers very quickly for MJ Marggraff's book, Finding the Wow (renamed from Time for a Lift), which is featured in O Magazine, August 2016, and Adam Markel's book, Pivot, which was sold in a 3-way bidding war to Simon and Schuster. I highly recommend Van-Garde Imagery for all of your design needs!
—Randy Peyser, CEO, www.AuthorOneStop.com
There is only one word to describe Darlene, and that word is wizard! She is not only fabulous in her work, but is a patient and understanding person to work with. How do we know? Darlene has created twenty-five books for us and will be doing the four new ones that are currently on the drawing board!
She has added color where needed and corrected errors as well as enhanced our stories with her sheer talent. Believe us, you don't want anybody else!!!
—Michele Menard, Carolyn Menard, Adrienne Menard, and Lucille Menard, Children's Books by The Four Menards

Van Garde Imagery is a miracle maker! They have designed dozens of media ebooks for DreamSculpt —each one more excellent then the next. We get compliments all the time about their innovative designs.
—Jared Rosen, Publisher, DreamSculpt
Darlene has been creating book interiors and covers for me for years now, and I keep coming back. Her work is consistently great, speedy and respectful. If that last thing sounds weird, you try working without it! And Dan is tops in cover design. I would come to him without hesitation, as I have done for years and years.
—Ben Ohmart, Publisher, BearManor Media
For many years I had intended to write my father's life story. He was one of 7 children born to Russian immigrant parents, and on the strength of his determination and sheer nerve, he became a successful singer/actor on both the Broadway stage and television from the 1940s through the 80s. When in 2007, at the age of 97, he and my mother, who was then 89, passed away just seven weeks apart, I felt the time had come to make my idea into a reality.
I had never written a book before, only the occasional poem or essay, whenever my muse was in town visiting. I spent about 15 months conceiving, researching, thinking, remembering, questioning and occasionally writing, and eventually there came the day when I looked at my computer screen and thought, "Hey! I seem to have written a book! Now how about that?" I read it and 
decided it should be published, because it was good, and because I wanted it to serve as a tribute to my dad. It seemed to me that a tribute would be more of a tribute, if it were available for others to read. I wound up getting a publishing deal with BearManor Media, which was a deep stroke of luck in itself.
I knew virtually nothing about the publishing business, nor did I understand the first thing about the process by which a "manuscript" becomes a "book". I soon came to learn of the existence of a position in the world of books called "The Typesetter" also known as "The Book Designer". It quickly became evident that such a person was in a position to make all the difference in how my book would turn out.
In this case, that person turned out to be Darlene Swanson, and according to the top banana at BearManor, Ben Ohmart, they didn't come any better than Darlene. I have to say that Ben made an understatement. Even though I knew so little about the nuts and bolts of the Book Machine, I thought the vision I had in my mind of how the book ought to look, my concept of what would do justice to my father's memory could never be equalled by anyone attempting it. When it came to the cover design, Darlene showed me otherwise. It was as if she had looked into my mind, had seen my vision, and then took that image and fixed what was wrong with it. Then there was her ability to work cooperatively with me on the text itself. Darlene responded to my requests not only for the repair of the inevitable typos, but also for the changes I wanted, so I would not have to live with this awkward wording, or that sophomoric adjectival phrase.
Darlene Swanson is a masterful artisan with an ability to bring her touch to bear when moving the author's words from manuscript to finished product. At the same time, she also exhibits seemingly endless patience and understanding in her dealings with a newcomer as anxiety-ridden as I had been when I first heard about "The Typesetter" and the name, Darlene Swanson.
As she played her part in making my book a reality, all that anxiety began to melt away. In its place there was now confidence and thoughts of what my next book would be about! Thanks, Darlene. You're a true pro!
— Paul Reed Jr., Author of
You Grew Up! The Life and Career of Paul Reed
Wonderful job Darlene. You are such a lucky find for us. I can't imagine the magazine being any better!
—Michael Bartlett,
Panama Today
Magazine
As always – I love what you are doing. This is one of those great examples of where being willing to spend more money has really paid off for us. We could have gotten the work cheaper but I can't imagine that any of your competitors would have created the quality and creativity we have gotten with you. You are worth a premium!!
—Michael Bartlett,
Panama Today
Magazine
Wow! I am so very pleased with the cover. You are to be commended on an excellent job! You completely capture the "theme" I was trying to get across…and taken it to the max. The treble staff with the heart is precious. The shading and texturing are compelling. Thank you so very much for creating such a masterpiece.
Scott O'Bien, author of
Virginia Bruce
You may know that the Lucky Strike book is now out—and Dan, I cannot tell you how many people have complimented the cover. It's happened over and over. 
 
And I remain so pleased, as well, by how the book was designed by Darlene—the whole book looks really beautiful. I've gotten many compliments about the book's general design and feel.
Andrew Lee Fielding, author of
Lucky Strike Papers
That TV graphic you threw in there rocks!
—Bill Devoe, Author of
Twilight Zone Trivia
WOW, that is a beautiful cover... I must say... Stunning artwork .. I like it...
—Mel Martin, Author of
The Magnificent Showman: The Epic films of Samuel Bronston
As an author and publisher, Van-garde Imagery helped me with the layout and cover design for my Solving 9-11 books, which turned out beautifully. Darlene was always prompt and easy to communicate with which made the whole process of editing the text go smoothly. As important books about a crucial event in modern history, everything had to be right and thanks to the patience and professionalism at Van-garde Imagery, we were able to achieve the high-quality results we wanted. The cover art is beautiful and really makes the books stand out from others.
—Christopher Bollyn, Author and publisher of the
Solving 9-11
books
As a startup company FineDesignGroup needed a clear, instantly differentiated brand identity. Working with Dan and Darlene Swanson of Van-Garde Imagery, Inc., we were able to create and execute a unique brand image for our point of sale and website graphic projects. Not only did they deliver great design, we were able to meet our deadline with time to spare.
Dan and Darlene did a fantastic job at interpreting our company vision when creating the Real Jewels branding package. Their insight and expertise produced creative designs that enabled us to realize our branding and marketing objectives.
I would recommend Van-Garde Imagery, Inc. to anyone who needs to get his graphic design projects done in an expeditious and professional manner. Working with Dan and Darlene was a real pleasure and clearly made what could have been a difficult and protracted process effortless. This is a no- nonsense team that truly understands the needs of their clients.
—Ilia McCormick, President and Founder, FineDesignGroup, Inc.
Creative, attentive, unflappable, on time and on target – it's a pleasure to work with Van-Garde.
—Judith Appelbaum, Editor of the IBPA
Independent
Interesting, precise and professional. She has been a pleasure to work with since day one.
—Terry Nathan, Executive Director Independent Book Publishers Association
Let me just say – wow! Looks super-great!
—Lisa Krebs Magno, Assistant Director Independent Book Publishers Association
Best-looking ad anyone has ever done for me.
Wow! What a great job you and your team did in putting together the story on "Curious Critters." Of all the media coverage so far, this is my favorite. The layout is spectacular, with the images really popping off the page and the information presented in a spacious and comfortable way, complementing the design of the book itself. Thank you for such a professional presentation and the pleasurable experience of working with you and your team on this project!
— David FitzSimmons Photography
*****
Your expertise and professionalism show! The layout looks 1000% better. Fonts are great. You are having my company look really great, both in promptness and quality!!!
— Mary Jo McGrath, CEO, McGrath Training System
I gasped when I opened this! It looks faaaaabulous. I love the color you selected for the font. It ties into the tree bark and the rocks in the distance and pulls everything together. Exactly the kind of work I wanted!
— Laine Cunningham, Author of
The Message Stick
The cover is awesome. You have made an extremely colorful and eye-catching cover. The overlay of the llamas etc. is very imaginative. I see nothing that I would change. I'm glad I chose you to do the design.
— Spence Wade, author of
The Inca Legacy
Well, Darlene, you've really done it! I am thrilled with my book cover!!
—Marilyn Knowlden, author of
Little Girl in Big Pictures
One word for you: WOW. It looks amazing! You completely got the vision that I put on paper. I am so impressed. You have done a fabulous job. I just love how it looks. You are fantastic.
I wanted to thank you for making this such an enjoyable project to work on. I really do hope we are able to work together in the future! Your attitude, patience, and the very high quality of your work made my last-minute job so much easier. Thank you, thank you, thank you. I will recommend you to anyone and everyone I know looking for design services. You have been wonderful!
— Emily Prather, editor,
The Beauty Cookbook
Darlene you are going to be a huge star with your great work. Ellen airs here in LA at 4:00 on Ch. 4 but you can go to her website and find out where and when it airs in your area but it will definitely be on NOV 27th a great day when everyone is off work and sitting around watching TV and seeing "YOUR" book cover design work. It will also be on again the first week in February!!! Again thank you for doing such a great job I LOVE it!
— Kym Douglas, author,
The Beauty Cookbook

*****
Wow! I love it! It's perfect. It seriously made tears come to my eyes.
—Stacy Grover, author,
101 Creative Ideas for Animal Assisted Therapy
*****
It looks incredible! Tears, yep tears!
— Vicki Nelson, co-author of
Jesus is Coming Back
When you see her all finished, it's like when your daughter married or went off to college or left for her first prom. You can hardly breathe. She is beautiful. You have done a superior job. Maybe one of the best things that happened to me was when
Walk NYC
was not meeting LSI's requirements and I said to (can't think of her name) "isn't there someone you can recommend? I need help." She sent me a list of names and I picked you. No reason. Some how I just knew it was you. And...sure enough, I won the lottery. Thank you both for all your TLC through this project.
— Annie Coburn, author,
Walk NYC
and
Walk London
Great professional to work with!!
—Mike S. Choice Insurance
Darlene...you have a GIFT for taking someone else's vision and transforming it into reality...it makes all of us look like a million bucks. Thank you.
—Marjorie, AIIP Connections
OH. MY. GAWD! With respect to Mr. Musial, it used to be "Stan the Man". Now it is "Dan the Man!" I wish there was a more spectacular word than "Stupendous!"
—Steve Hayes, author of
Googies
Great work and speedy response time. I plan to work with this company on future projects. Thanks!
—Jenny B., Bardstonian Magazines
I am very pleased with the work preformed by both Darlene and Dan. Each attacked segments of my project with professionalism and personal attention. Darlene was especially skilled in working with Lightning Source, knowing exactly the proper criteria, the formating required, and the professional touches for the copyright pages, etc. Especially noteworthy was her willingness to make last minute corrections and to keep open a dialog of ideas resulting in a final product that I am especially proud of. She elevated my amateur status to a professional level where I will be proud to promote my efforts knowing that the quality of the printed product is on a par with the best available. Her husband, equally committed to providing personal attention, was instrumental in designing the graphic images of my cover. The task was a daunting one, as he took what marginal material I provided and again elevated the material to a polished professional level. Especially challenging was taking verbally ideas about a key component in my story and creating from hard work and combined imagination a representation that mirrors a subtle, but critical component of my story. If there is only one element to the art work that captures the interest of potential readers of my novel, it will be his medallions, created with imagination and carefully crafted skill. The rest of his work parallels his listening ability to understand the desire and intent, so that the final representation is of one thought and mind. The combination of two individuals who are craftsmen in their individual expertise, who listen, and work well and hard together to achieve personal satisfaction for all parties is not only refreshing, but extremely rewarding. It was a privilege to have them work on my project, and not only do I endorse and recommend their services, I am thinking of starting a new one, just so that I can employ their services in the future!
—Arthur C. Cofresi, author,
The Serapis
This is an amazing and breathtaking issue! It's gorgeous and useful at the same time.
—Amelia K.
AIIP Connections
I could not be more pleased with the end result of my project. It is exactly what I was looking for and better than I had hoped it would be. Darlene is very easy to work with and very responsive to my requests. I highly recommend her.
—Avanti Group,
Backyard Excursions
The provider has been a pleasure to work with. Professional, creative, responsive, and a true partner on the book project. There were no surprises and all the work exceeded expectations. Always reachable and very flexible. This designer is an A+ in my book.
—Bristol V. iiNews ebooks and ads
This is HOT!!! LOVE IT! I was so tickled when I saw it. You know I don't usually go for the color green. In fact it is not a color I've totally liked, but in this instance you made me love it. It looks and feels fresh and clean. The design...brilliant!
—Wendy Ida, Fitness Trainer
Stunning and gorgeous! You are AWESOME!!!!!
—Randy Peyser, www.AuthorOneStop.com
I appreciate the attention to detail. Very good communication. Thanks for a job very well done.
—Hans Wedemeyer, www.abovegroundmarker.com
I LOVE THIS WOMAN!!!!
—Kristin See, Regional Director, Make-A-Wish Foundation
Terrific! Helped me through the whole project. Would highly recommend. Would use again for new projects.
—Craig Bonawand, Haven Pools
I am so impressed with the cover (as well as the
Teaching Law
cover). I just opened the file to have another look at the cover and continue to be thrilled. Thanks so much for being able to grasp the work and relate it to the cover design!
—Brian Jablonski,
Teaching Law
and
Navigating Legal Research
Always refreshing to work with someone who delivers what they promise!
—Barbara Kimmel, Next Decade Publishing
The book looks GORGEOUS! Thanks again for all your help! I look forward to working on later editions and other books with you. I so appreciate you sharing your gifts with me to make The Sipping Point an amazing book.
—Laurie Forster, author,
The Sipping Point
We were very impressed with this design team. They were easy to work with and very professional and met our tight and demanding deadline with a wonderful can-do attitude that they delivered on. I am very impressed and will use them again.
—Jim Jacobson, author,
Top Maui Restaurants
Darlene was a pleasure to work with throughout the process. This was my first try at publishing a book, and she was very patient and professional in helping me to work out the bumps. She met or beat all deadlines and got back requested changes quickly. Most importantly, she did a first rate cover design and layout for my book. I would highly recommend her to anyone with a similar project.
—Tom Mullen, author,
A Return to Common Sense
Well, I got exactly the same reaction from Kathy that I had. When she saw the cover she said "WOW, that's scary!" The more I see it the more perfect I realize it is. The consequences of hormone decline are scary, and deadly. You did a great job, I knew you were the person for it. It REALLY says what I want to say. I just didn't realize it at first because I had a white cover in mind and was shocked when I saw the black one. Now that I'm surveying it, it's totally giving people the impression that there's something deadly about menopause. AND THERE IS!! I think you hit the nail on the head! Okay, I have 65% who LOVE it and 35% who HATE the coffin. I'm not getting rid of it as I think it's says EXACTLY what I want to say.
—Sindi Holmlund, author, Menopause: The Deadliest Lie Ever Told to Women
Professional. Kind. Patient. Timely. Enjoyable. These are a few of the many qualities I have experienced in my work with you. I have never been so thankful to find a team to partner with for my book publishing. It's always satisfying and a positive work experience with you. I highly recommend Van-Garde, and look forward to future projects with you.
—Lisa Hartell, author and Founder of www.TheMomMinistry.com
That TV graphic you threw in there rocks!
—Bill Devoe, author, Twilight Zone Trivia
It has been a pleasure working with you and I appreciate all the hard work you put into making our June issue of HomePulse beautiful! Not only are your design capabilities and knowledge of InDesign top notch – you work so well under pressure! You didn't complain once (even when we were adding new ideas to the magazine the day before it was scheduled to go to print!). This has been a blessing for me as unlike my last artist, you have made my job so much easier. Thank you and I look forward to continuing to work with you on future issues of HomePulse!
—Summer Rawlins, Publisher
Darlene did a great job and was very responsive and helpful. Highly recommended!
—Brent Basham, author,
Got a Minute?
One of the best [providers] I could work with on a book. Highly recommended! You two are a good team. I was lucky to find you! Darlene is one of the best typesetters I've ever worked with. Completely trustworthy and quick as a coyote crossing a busy highway. She loves what she does and truly Cares. I couldn't imagine BearManor Media without her. Not only do they do the interiors, but their covers are GREAT. From the simple - like Car 54 - to the complex, when even I don't know what I want. They are true professionals with covers, and people DO judge books by them.
In all ways, an admirable and engrossing accomplishment. Darlene and Dan of Van-garde Imagery, Inc. took a superb manuscript and polished what I would have to say is my best work ever. Their remarkable gift will transform your favored projects into works of art, and make your fondest dreams come true.
—Martin Grams, Jr., author
The Twilight Zone: Unlocking the Door to a Television Classic
and
The Green Hornet: A History of Radio, Motion Pictures, Comics, and Television
It's not only the bee's knees, it's the cat's meow and yo' Mamas 'jamas! Congratulations to Darlene. Having raved and gushed thusly,
—Whitey Mitchell, author,
Hackensack to Hollywood
After another graphic designer—one who's work I had seen and admired—failed over a two week period to turn out a logo I needed for my new business cards, I turned to Dan. It took him less than two days to get a product. It would have been faster but for delays from the printer who I was going to have do the print job, who couldn't answer the questions Dan needed answered. It turned out the job was much more difficult technically than I knew. It turned out the printer couldn't do the printing job I needed either. Dan located another printer who COULD do the job, and who was even less expensive than the other one. They were professional and turned out a product rapidly. I now have cards that execute the concept I originally had. They are actually stunning. I passed out thirty of them at a networking event today and got two good prospects out of it People look at these cards and are impressed; only I (and Dan) know what it took to produce that product. Thanks Dan for being a real pro.
—Richard R. Byrd, President and CEO, Richard R. Byrd and Assoc. Business Consultants, Inc.
I cannot tell you how many people have complimented the cover. It's happened over and over. And I remain so pleased, as well, by how the book was designed by Darlene—the whole book looks really beautiful. I've gotten many compliments about the book's general design and feel.
—Andrew Felding, author,
The Lucky Strike Papers
A few weeks ago we found ourselves with a very tight art work deadline looming for a full page ad in a major magazine. The ad we had wasn't working and the new one we were in progress on just wasn't visually strong enough. I sent the ad to Dan at Van-Garde and asked him for help. We kicked around a few ideas and in just a few hours, I was looking at a dynamic, attention grabbing full page. Using the image Dan created in some electronic promotions have proven its effectiveness. We made our art deadline with an ad I know will produce the results we need.
—George Goodrich, New Products Manager, Executive Software International, Inc.
Wow, that is a beautiful cover... I must say...
— Mel Martin,Author, The Magnificent Showman – The Epic Films of Samuel Bronston
Darlene rescued me when I'd spent a month with another design team and gotten nowhere. So I was a month behind. She came in, raced through to meet my deadline, and turned in excellent work. I would highly recommend her to anyone who wants a polished design with fast turn-around and reasonable rates.
—Margaret Harrell, author/publisher
Your overall professional services and affordable fees have made it possible for me to finally produce a sound, error free, professional book about which I am very confident, and I am looking forward to presenting it to the world.
—Getty Israel, MPH Public Health Practitioner, Pathway To Wellness, LLC
Wow! I'm loving the cover on this one!
—Angela Bole, Executive Director, Independent Book Publishers Association
YOU ARE FREAKIN AMAZING!!! I AM ABSOLUTELY ASTOUNDED. HOW DO YOU DO IT???? That is beautiful! Wow!
—Michele Menard, author of The Thanksgiving Ring
You are the BEST! The absolute BEST! Thank you for everything you've done to get all of these sheets designed, printed and mailed to me. Your work is SUPERB! I am so thrilled that we connected so many years ago and that we can continue to work together like this.
—Randy Peyser, www.AuthorOneStop.com